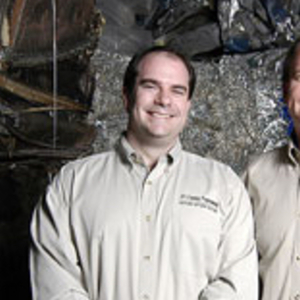 Dave Kane
Special guest
Founders George and David Kane are members of the same family that owned and operated Harley Metals & Recycling in Los Angeles up until the day their father retired. Having grown up in the scrap recycling business, George and David are intimately familiar with every facet of recycling operations from running the public dock to booking sales orders. They understand the daily challenges recyclers encounter, and with that knowledge have created a product to make a recycler's life easy.
In 1999, following their father's retirement from the scrap recycling industry, the Kane brothers launched 21stCentury Programming and began offering their Recycling Operations Manager software (ROM) to facilitate daily operations and eliminate hand written paper trails. Today, ROM is an American-made software solution embraced by recyclers in growing numbers, nationwide. There's a ROM solution for every recycler – from the largest multi-yard operation to the single scale house. If you process metal, paper, or plastic, 21stCentury Programming has the software to make life easy.
Dave Kane has been a guest on 1 episode.
March 3rd, 2021 | 1 hr 7 mins

Today on the IC-DISC Show, we're talking with Dave Kane, President of 21st Century Programming, a software company that creates programs for scrap recyclers to run and improve their business. I really enjoyed this conversation looking at the history of the company, how customers requirements and expectations have changed over the years, and we also had the chance to discuss a new collaboration between Export Advisors and 21st Century Programming to help scrap exporters quickly identify the tax savings they could achieve from an IC-DISC.